Externally-Led Patient-Focused Drug Development Meeting on Cystic Fibrosis:
October 29, 2018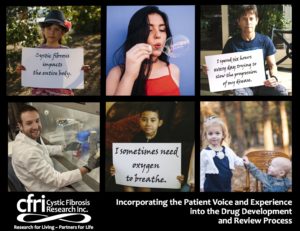 CFRI's Externally-Led Patient Focused Drug Development (PFDD) Meeting on Cystic Fibrosis (CF) will integrate the patient voice into the drug development and review process during a one-day live streamed, interactive meeting of individuals with CF, parents/caregivers of those with CF, CF clinicians, and FDA representatives, during which the patient voice and perspective will be shared and expanded upon in relation to the disease, current therapies and future therapies.
The Externally-Led PFDD Meeting on CF provides the opportunity to incorporate the experience of people with CF in a collaborative manner during benefit-risk decisions, and to constructively expand communication between the FDA and the CF patient community.
The meeting will be held Monday, October 29, 2018, from 8:30 am – 3:30 pm at the College Park Marriott Hotel and Conference Center in Hyattsville, Maryland.
Registration is free. Attendees must register in advance to either attend in person, or attend via live streaming. Those participating online will have the opportunity to provide input. Due to cross-infection risks, individuals with cystic fibrosis are asked to participate online.
Sponsorship opportunities are available; levels range from $2,500 – $27,500. For information contact Tony Adessa at tadessa@cfri.org.
Sponsors:
Platinum Sponsor: Vertex Pharmaceuticals
Gold Sponsor: Gilead Sciences
Silver Sponsor: Proteostasis Therapeutics, Genentech, Synspira
Bronze Sponsors: Santhera Pharmaceuticals, Translate Bio, Eloxx Pharmaceuticals, Mylan Pharmaceuticals (through an independent medical education grant), and AzurRx BioPharma.

Watch Our Many Voices ~ One Voice CF Awareness Video!
CFRI's Many Voices ~ One Voice CF Advocacy and Awareness video features members of our CF community, shares facts about cystic fibrosis, and seeks to inspire you to join CFRI's advocacy campaign.
Make a difference right away.
Share the video with your friends, family and colleagues.
To watch and share on YouTube, click here.
Cystic Fibrosis Awareness Month: May 2018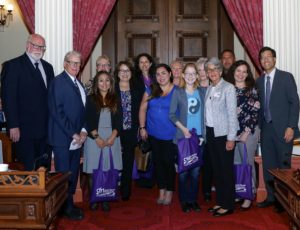 Please join us in 2019!
May 7th, 2018: CFRI's Sacramento CA Advocacy Day!
CFRI advocates spent the day in California's Capitol meeting with State Assembly Members and Senators to raise awareness of CF and seek support for access to affordable quality care and therapies. Senator Bill Monning sponsored a resolution declaring May 2018 as Cystic Fibrosis Awareness Month in the state of California.
To watch a brief video with highlights of the day, click here.