2020 CF Summer Retreat
Due to the COVID-19 pandemic, the in-person Retreat has been cancelled and will be replaced by a Virtual Retreat.
Thursday, July 23 – Sunday, July 26, 2020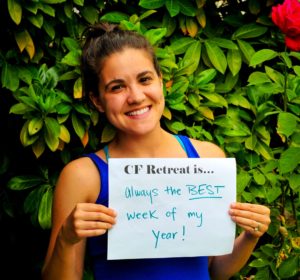 The CF Summer Retreat provides a safe and welcoming environment, created to enhance education, positive coping skills, and social support for people who share common experiences with CF. Feedback from previous attendees confirm that Retreat successfully provided new information about CF therapies and treatments, improved psychosocial health, and provided resources and strategies for coping with the daily challenges of CF. The retreat is filled with various activities such as:
Daily exercise activities tailored to individuals' unique capacities;
Educational workshops with guest speakers, addressing such issues as transplant, gastrointestinal issues and CF, hemoptysis, nutrition, and CF sinus disease;
Daily rap sessions (support groups) to support positive mental health;
Special events and dedicated time to connect, network, and socialize with others.
Eligibility
Adults 18 years and older with cystic fibrosis, their family members, and friends are welcome
Register by July 15th to ensure your care package arrives on time.
I don't quite know how to express how being in a room with others who have cystic fibrosis feels. Online connection is great, but being physically present with a group of your peers – it's simply unparalleled. I ended up connecting with the most welcoming and understanding group of people that I've ever met. I plan on returning for many years to come. – Colleen L.
CF Summer Retreat is generously sponsored by Vertex, AbbVie and Gilead Sciences.
Embrace: A Weekend Retreat for Mothers of Children & Adults with CF
Due to the COVID-19 pandemic, the in-person Retreat has been cancelled and replaced by a virtual Retreat on Saturday, May 2.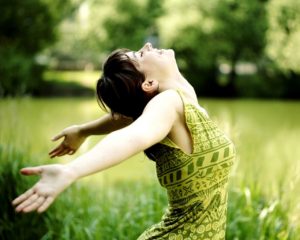 CFRI hosts this annual retreat for mothers of children & adults diagnosed with cystic fibrosis, in recognition of the vital role that mothers have in the care of their loved ones. Studies show that mothers of children with cystic fibrosis have extremely high rates of anxiety and depression, and that this may have a direct impact on their children's adherence to their medical regimen. Through educational presentations, therapeutic art and journaling workshops, yoga, support groups, and the sharing of CF resources, women who share the CF path leave the weekend better prepared for the challenges presented by the disease. Embrace offers an opportunity for all participants to connect and rejuvenate. Evaluations of Embrace participants show that the weekend is extremely effective in lowering rates of depression and anxiety, and provides mothers with educational resources and strategies to utilize upon their return home.
"This retreat was life changing! It is so wonderful to be with other women who understand the challenges we face raising our children with CF."  Mother of an adult daughter with CF
Embrace Retreat is made possible to date through grants from Vertex Pharmaceuticals, AbbVie, and Gilead Sciences.