CFRI's 32nd National CF Education Conference: Charting the CF Course
July 26 – 28, 2019 (Fri – Sun)
Pullman San Francisco Bay Hotel
(223 Twin Dolphin Drive, Redwood City, CA)
Thank you to all who attended! Videos of Conference presentations will be uploaded on our YouTube channel shortly!
This annual weekend conference brings together those impacted by cystic fibrosis (CF) – including patients and families – with CF scientists, clinicians and experts in the field of CF from across the United States.
Save the date! Next year's 33rd National CF Education Conference will take place July 31 to August 2, 2020.
Conference features:
Updates on new therapies and vital CF-related topics addressed by nationally renowned presenters
Access to pharmaceutical and medical technology representatives
Support Groups and Workshops
Receptions, awards & networking with CF community peers
Speakers:
Marina Basina, MD
Jerry Cahill
Travis Flores
Mary Abigail Garcia, MD
Nadia Islam, PhD
Traci Kazmerski, MD, MS
David Nichols, MD
Steven Rowe, MD, MSPH
Emily Schaller
CFRI-Funded Researchers:
Guillermo Flores-Delgado, PhD
Martina Gentzsch, PhD
Lucas Hoffman, MD, PhD
Nam Soo Joo, PhD
Elizabeth Kramer, MD, PhD
Kenichi Okuda, MD
AKM Shamsuddin, PhD
Cynthia Silveira, PhD
Presentations will address:
CF Pipeline
CF and Reproductive Health
Emerging CF Pathogens and Therapies
CF and Mental Health
Relationships and CF
Exercise and Attitude
Innovative CF Research
And more!
Please note : Participants/guests are requested to use proper hygiene to ensure good health for all. Participants with CF must adhere to CFRI's Infection Control Guidelines and submit a Medical Release Form as well as a Cross Infection Liability Release Form.
For more information: call 855.cfri.now
Sponsored to date by Vertex Pharmaceuticals, Gilead Sciences, Genentech, Chiesi USA, AbbVie, Ionis Pharmaceuticals, the Boomer Esiason Foundation, and Translate Bio (lunch sponsor).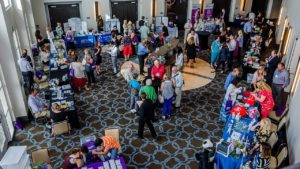 2018 CONFERENCE PRESENTATIONS AVAILABLE TO VIEW ON CFRI'S YOUTUBE AND PODBEAN CHANNELS. Our stellar line up of experts provide a wealth of information on a range of CF-related topics. The list of speakers is below. To watch/download on our Podbean channel, click here. To watch on our YouTube channel, click here. (Please note: Depending on your WiFi connection, videos will be easier to watch on YouTube.)
– Science, Advocacy & Life with CF – Reid D'Amico, PhD
– CF Pipeline: The Journey Continues – Manu Jain, MD
– Advances in Lung Transplantation – Jasleen Kukreja, MD, & Rupal Shah, MD
– Bridging the Gap Between Isolation and Social Connection – Chelsea Toth, DSW
– Ouch! Living with Pain in CF – Elaine Chen, MD
– History and Future of CFTR Modulators – Alan Verkman, MD, PhD
– Fungi in CF: Observers or Actors? – Richard Moss, MD
– Running, Adversity and CF – Sabrina Walker
– Ask the Experts – Dr.s D'Amico, Jain, Toth, Chen, Moss