CFRI's 33rd National CF Education Conference: Partners in Progress
July 31 – August 2, 2020 (Fri – Sun)
Pullman San Francisco Bay Hotel
(223 Twin Dolphin Drive, Redwood City, CA)
This annual weekend conference brings together those impacted by cystic fibrosis (CF) – including patients and families – with CF scientists, clinicians and experts in the field of CF from across the United States.
If you're interested in scholarships to the conference, click here for more information.
Conference features:
Updates on new therapies and vital CF-related topics addressed by nationally renowned presenters
Access to pharmaceutical and medical technology representatives
Support Groups and Workshops
Receptions, awards & networking with CF community peers
Confirmed speakers and topics include:
James Chmiel, MD – Anti-Inflammatory Therapies
Doug Conrad, MD – CF and Phage Therapy
Julie Desch, MD – Learning, Laughing and Loving with CF
Marie Egan, MD – CF Pipeline
Denis Hadjiliadis, MD – Cancer and CF
Nicole Irizarry, DPT – Exercise and CF
Virginia O'Hayer, PhD – Acceptance and Committment Therapy (ACT)
Caroline Okorie, MD – Sleep and CF
Diane Shader Smith – Salt in My Soul
Yelizaveta Sher, MD – Psychiatry's Role in CF Treatment
Sriram Vaidyanathan, PhD – CF and CRISPR
CF and the Siblings: Panel Discussion
Please note : Participants/guests are requested to use proper hygiene to ensure good health for all. Participants with CF must adhere to CFRI's Infection Control Guidelines and submit a Medical Release Form as well as a Cross Infection Liability Release Form.
For more information: call 855.cfri.now
Sponsored to date by Vertex Pharmaceuticals, Genentech, Gilead Sciences, Chiesi USA, AbbVie, and Ionis Pharmaceuticals.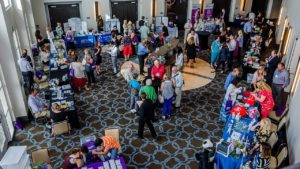 2019 CONFERENCE PRESENTATIONS AVAILABLE TO VIEW ON CFRI'S YOUTUBE AND PODBEAN CHANNELS. Our stellar line up of experts provide a wealth of information on a range of CF-related topics. The list of speakers is below. To watch/download on our Podbean channel, click here. To watch on our YouTube channel, click here. (Please note: Depending on your WiFi connection, videos will be easier to watch on YouTube.)
– The JEM Show – Jerry & Em: Living… Breathing… Succeeding in Life with CF – Emily Schaller and Jerry Cahill
– The Transformation of Cystic Fibrosis Therapy – Steven Rowe, MD, MSPH
– Let's Talk About Sex: Improving Sexual and Reproductive Health Care in Cystic Fibrosis – Traci Kazmerski, MD, MS
– Motivating Behavior Change in Individuals with CF – Nadia Islam, PhD
– CF Respiratory Infections: non-tuberculous mycobacteria, Small Colony Variant S. aureus, and Some Unexpected Consequences of Antibiotic Use – David Nichols, MD
– Innovations in CFRD Diagnosis and Treatment – Marina Basina, MD
– Ins and Outs of Gastrointestinal Issues in CF – Mary Abigail Garcia, MD
– Breathing Happiness – Travis Flores
– Ask the Experts – Isabel Stenzel Byrnes, Dr. Nadia Islam, Dr. Dave Nichols, Dr. Steven Rowe, Emily Schaller.