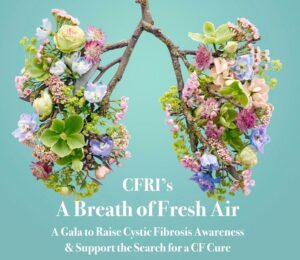 On Saturday, October 17th, CFRI's first virtual gala, A Breath of Fresh Air, celebrated 45 years of research progress with music, compelling stories of hope, celebrity appearances, and a silent auction, all while we honored our 2020 CF Champion, the phenomenal Mary Helmers, RN, of Stanford's CF Center. Thank you to our amazing supporters and sponsors for helping to raise more than $126,000 for vital CF research and programs through this event!


Mission
To fund research, provide educational and personal support and spread awareness of cystic fibrosis, a life-threatening genetic disease.

CFRI
Cystic Fibrosis Research, Inc. is a nonprofit organization that funds innovative cystic fibrosis (CF) research and offers education, advocacy and psychosocial support programs to those affected by CF.

Vision Statement
Inform, engage and empower the cystic fibrosis community to reach the highest possible quality of life, as we work towards a cure.

Cystic fibrosis (CF) is a rare genetic, chronic, progressive disease that affects over 30,000 people in the United States, and over 70,000 people worldwide. While most people associate cystic fibrosis with progressive lung disease, CF impacts the respiratory, digestive, reproductive, and endocrine systems. Once considered a childhood disease, over half of those living with CF in the United States are over the age of 18. While life expectancy for those recently diagnosed has reached the mid-forties, the median age of death remains only thirty years. Progress in research has led to new therapies that can extend and enhance the lives of those with CF, but there is still no cure.